Luxury Holidays at NIHI Sumba
The Story Of NIHI Sumba
EDGE OF WILDNESS™
A rare and fascinating tale that began when Sumba's ancestors, the 'Marapu,' landed on its secluded beach centuries ago.
Beliefs about their powers vary, but the Marapu spirit has remained a benevolent force on the island, protecting the way of life and attracting custodians whom honor and carry forth the heritage and stories of the Sumbanese people, past and present.
The same beach attracted Claude and Petra Graves in 1988, in search of the perfect wave. From this adventure emerged a vision to create a resort that would preserve and share the breathtaking beauty of Sumba with those who would truly appreciate it. The beach of Nihiwatu, meaning "mortar stone," was named by early settlers for its isolated rock formation along the tide. The Graves aptly called the resort Nihiwatu for its surrounding legacy. By 2012, stories of the unregulated freedom and beauty of Nihi reached renowned brand-building American entrepreneur Christopher Burch, who was told Claude was looking for help to expand the resort. Burch called on a friend from New York's The Carlyle Hotel—South African-born hotelier James McBride, who was President of YTL Hotels in Singapore at the time—to visit Sumba.
Later that year, Burch's trip with his three sons proved to be a milestone, as he acquired NIHI in partnership with McBride. The acquisition enabled substantial investment with the single priority to evolve Nihi into one of the best resorts in the world, an example of a sustainable operation in harmony with the environment and the Sumbanese people. Travel + Leisure readers globally have voted NIHI as the number one hotel in the world, in all categories, for 2016 & 2017 World's Best Awards.
PROPERTY HIGHLIGHTS
ACCOMMODATION:
Private Villas And Estates
27 UNIQUELY DESIGNED VILLAS WITH PRIVATE POOL
Where you stay on vacation is more than just a hotel room. It is an experience. A new way of living. Every detail in our rooms – crisp white bed linens on our signature canopy beds, handmade chocolate in the mini bar, sweeping panoramic views of the Indian ocean – is designed to make you feel both at home yet completely transported.
Dining & Gourmet
We may be far away, but the culinary selection in our kitchen is vast. Our menus reflect the many traditions – old and new, east and west – that make up the diversity of Indonesia.
Depending on your appetite, you can try the flavors that set our corner of the world apart, or fall back on familiar cuisines. We offer classes for those who want to take a taste of Sumba home with him, and change up our dining weekly with themed meals, and always include the fresh catches of the day!
Spa Holidays
Allow yourself to let go as the healing hands of our Sumbanese Spa team take you on a therapeutic journey where your mind and body transcend, assisted by the healing blends of pure essential oils in combination with gentle nurturing and energy work.
Perched above the crashing waves of the Indian ocean, our Boathouse Spa is an experience not to be missed. We offer a range of treatments from manicures and pedicures to our signature NIHI massage that can be enjoyed on site as well as in the privacy of your own room or any one of our picturesque spa bales that punctuate the property.
Talk to our Luxe Indonesia experts
Our dedicated Luxe Indonesia experts are ready to help you design your luxury holiday to NIHI Sumba, Sumba Island, East Nusa Tenggara. Furthermore, we have Luxury Travel Specialists who've personally visited NIHI Sumba and can offer you their first-hand knowledge and experience.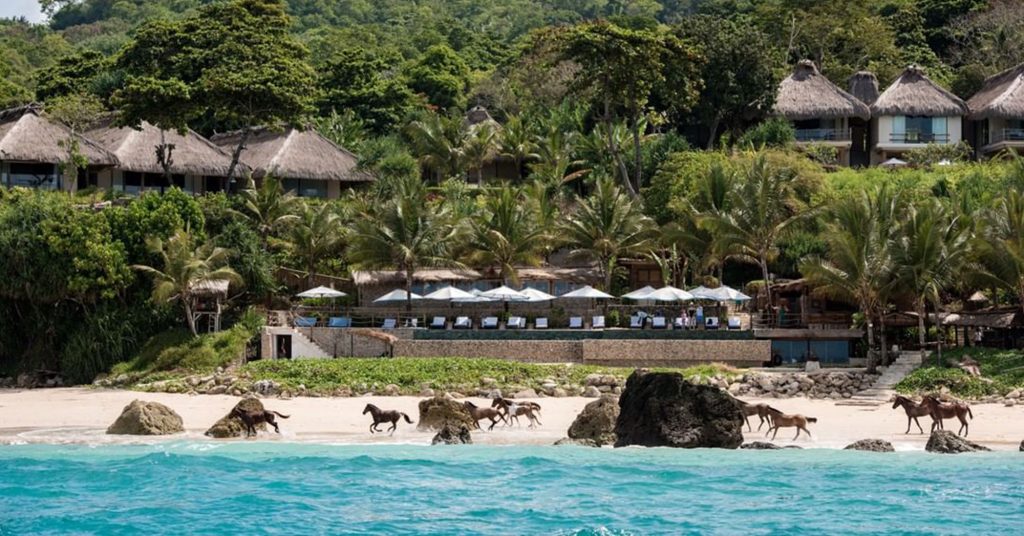 A stay at NIHI combines the ultimate in luxury comforts with the opportunity to authentically immerse oneself into the island's magnificently preserved ancient culture, to imbibe in local traditions and flavors, and enjoy the rich symphony of Sumba daily life.
You can witness more of the wild and vibrant culture through a visit to the local villages and markets for local arts and crafts, monumental megalithic burial sites, and the exquisite ikat weavings recognized the world over.
We continue to explore all corners of the island and everything in between to introduce new and exciting excursions to our guests. Sumba is filled with geographical opulence. Tailor-made itineraries include everything from access to local Stone Age sites and traditional villages to picnics under the majestic Lapopu and Bluewaterfall, and nature trails.
Whether on foot, bike, horse, or via open-air Safari, our fully guided tours are all within an hour from the resort and cater to the slow-pacer or the avid hiker.
Return air-conditioned luxury private transfer
Fast track VIP immigration service
Welcome flower garlance upon arrival
Bottle of wine upon arrival
Fruit basket upon arrival
Mineral water during transfer
7 nights accommodation + Daily breakfast  based on twin share
Professional English speaking guide during transfer
Other optional tours
Domestic flight
Meal not mentioned in program
Suggested tipping USD.5 per person(guest)  per day
Other meals not mentioned in program
Visa arrangement